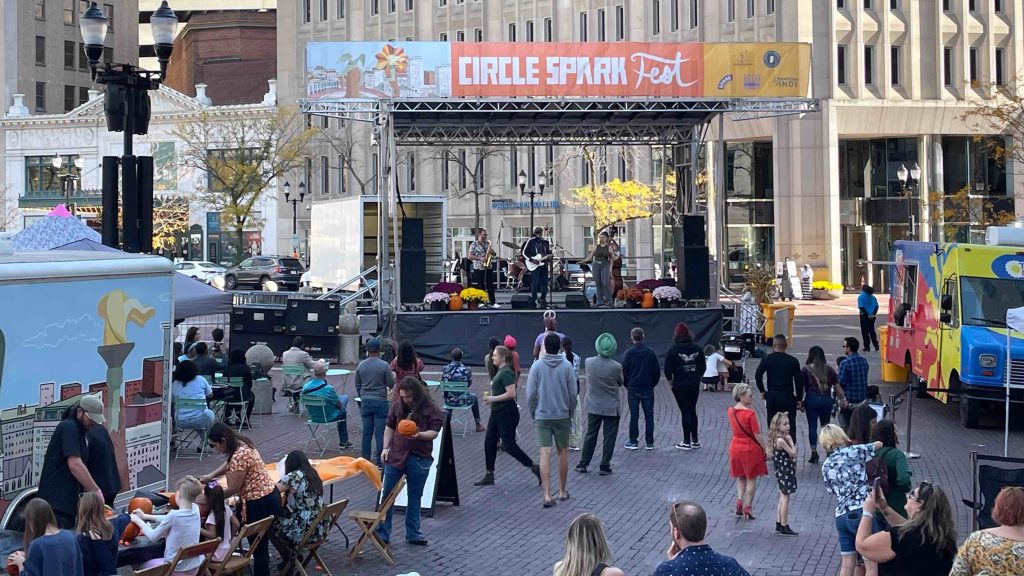 Circle SPARK Fest is a free, two-day fall festival on Oct. 28 and 29 featuring live music by an amazing array of local musicians, delicious food, artisan vendors, and hands-on creative activities led by Indianapolis artists. Activities include pumpkin carving, making pottery, and lots more. The festival, which runs from 11 am until 6 pm each day, takes place at the pop-up park on the southwest quadrant of Monument Circle that has been closed to traffic this summer.
New this year: SPARK Fest's organizers at Big Car Collaborative and Downtown Indy are teaming up with UbeFest — an event that's all about the tasty purple yam often used in desserts in Filipino cuisine called ube. UbeFest brings more than 30 food, artist, and unique retail vendors to the Circle for the festival. Many will showcase, among their offerings, a variety of tasty ube-based treats.
Due to forecasted rain, the festival will close early, October 29 at 4 p.m.
Performance schedule
(hosted both days by Tennah):
10/28 Sat
11-11:45 – Nathaniel Russell and Landon Caldwell
12-12:45 – Freetown Village Singers
1-1:45 – Naomi Pulver
2-3 Allison Victoria
3:30-4:30 – D'Classics
5-6 – Bashiri Asad
10/29 Sun
11-11:45 – Fred Miller
11:45-12– Tinikling Cultural Dance (On Monument)
12-12:45 -Tubbles the Band
1-1:45– The Roundups
2-2:45 – Forgotten Tribe
3-3:45– Exceso Rock Band
Activity Schedule (all free to participate):
10/28 Sat
12-5pm Henna with Pam
12-5pm Indy Face Painting
11-6pm Making Pottery with Stephanie Williams
11-6pm Pumpkin Carving
4-6pm Candle Making with Freetown Village
10/29 Sun
12-4pm Henna with Pam
12-4pm Face Painting with Stephanie Zki
11-4pm Derek Tudor Selfie 360 and Mini VanGo
11-4pm Ceramics with Stephanie Williams
11-4pm Pumpkin Carving