Fall has proven a season of firsts on Monument Circle this year. The tally of premieres sparked by Big Car over the last couple of months proves too innumerable to count. That's what happens when you experiment. New territory gets explored.
Yet, Big Car is not alone in its inaugural efforts in the heart of Indy. Local ceramic artist Ruth Stoner will bring nearly 70 artists and six musical acts to Fountain Square for the free, family friendly Monument Circle Art Fair.
"I used to have a job on the Southside, and I used to stop on the monument at the end of the day because it was right on the way," Stoner says. "I would hang out for 10 or 15 minutes. I just loved the space."
After a bit of investigating just 15 odd months ago, Stoner discovered the Monument was available for at a relatively inexpensive price. That's when the gears began to turn. "As somebody that's done art shows," Stoner says, "I was thinking gosh, you know, it seems like a logical place to have an art fair. It's such a great space."
As a new event, Stoner decided to limit applications to Indiana artists and kept booth prices low relative to more established art fairs around Indy. Despite the local focus, the applicant pool swiftly surpassed Stoner's expectations – a fact she says is a testament to the Central Indiana arts community. "I figured we're in the heart of Indianapolis and Indiana," she says. "Let's have some Hoosier pride for our Indiana artists."
A registered pediatric nurse by trade, Stoner never shook the love for ceramics she found while still in high school in South Bend. After nursing school, she continued to take art classes at everywhere from IUPUI and Herron to Indianapolis Art Center. Stoner continues to work as a nurse around 25 hours per week, while operating a studio out of Broad Ripple called Artistry In Clay. It wasn't until her kids reached adulthood that she began to consider ways she might give back to a community that has fed her creativity over the years.
Music Schedule:
10 am – Elizabeth Efroymson Brooks with the Suzuki academy (weather dependent)
11 am – Nick Zyromski
12:30 pm – The Yellow Kites
1:30 pm – Luke Austin Daugherty
3 pm – Cathy Morris
4 pm – Blue Moon Revue
When Stoner initially decided to pursue the idea of hosting an art fair on the monument, she didn't realize that Spark would be overlapping. The circle is an interesting space, in that the Monument itself belongs to the state while the surrounding streets and sidewalks belong to the city. This has led to some interesting complementary programming throughout Spark. For part, Stoner is thrilled with the timing.
"I just think Spark has brought such an awareness to the circle," she says, "and they have been so supportive in getting the word out. It's just such a nice setting for us, because of all the seating. It's great."
If the event is successful, Stoner hopes to make Monument Circle Art Fair an annual event. With food trucks, live music, a glass blowing truck and Spark as a backdrop, she hopes the event will offer something for everyone. At the end of the day, the artists who participated will measure the success.
"It's all about the artists for me, and how they feel," Stoner says. "If it's successful and the artists feel like it's worth it, then I would love for this to be an annual event. We'll just have to see how it goes, and go from there."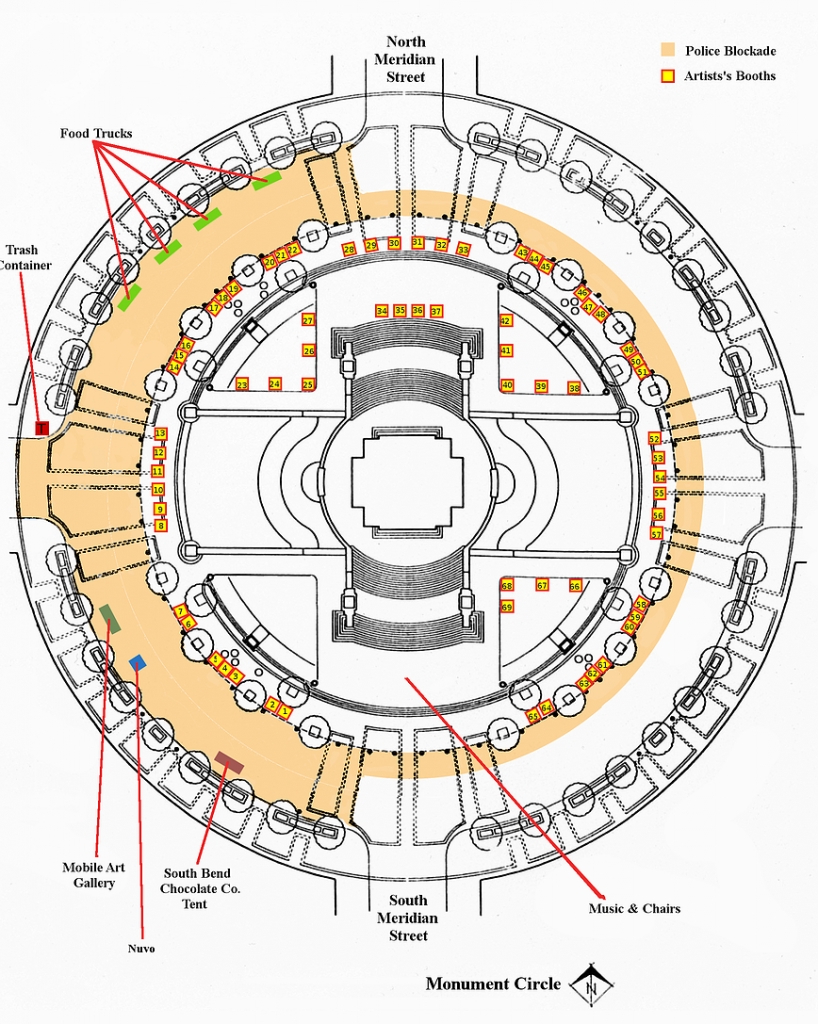 What: The inaugural Monument Circle Art Fair brings nearly 70 artists and 6 musical acts to Monument Circle for a single day festival in celebration of Hoosier art.
Where: Monument Circle
When: Saturday, October 10, 2015
10am – 5 pm