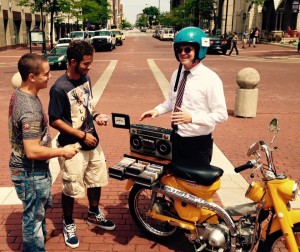 In general, it's rather easy to spot the Spark programming on Monument Circle. There are signs designating the various Big Car booths, a wooden sasquatch atop a Wagon of Wonders, a stage for musical performers, etc. However, some of the programming is less conspicuous.
For instance, even if you have visited Spark during Phono Fridays, you may have missed a guy in a tie and dress shirt atop a 1968 Honda CT90 motorbike with a 1980s Sanyo boom box in tow, and two cassettes taped to his motorcycle helmet. Fear not, the free cassettes he offers onlookers do not serve as bait. He's not crazy, at least not in any dangerous or threatening way. He's an artist named Stuart Hyatt.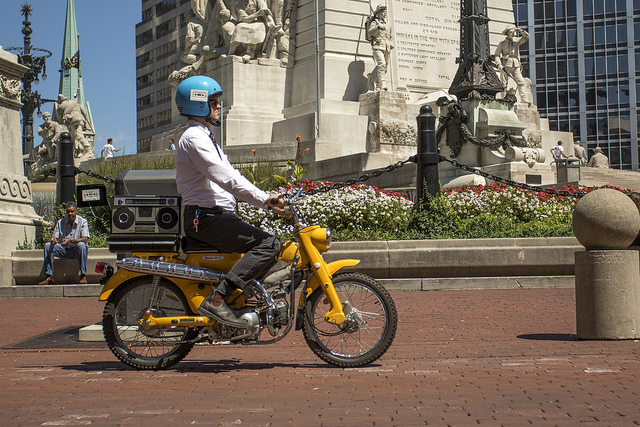 "Just for fun, I kind of dress like somebody who's on their lunch break from their insurance executive job," Hyatt says. "The kids don't even know what these weird things are with this magnetic tape. They love it though."
Each Friday during Spark, Hyatt cruises around Monument Circle at an average speed of four miles per hour on his motorbike for nearly two hours. Occasionally he stops to disperse random cassette tapes supplied by local record store, LUNA Music. "They've just got bins of them," Hyatt says of LUNA. "I cannot vouch for the quality of music that I'm giving away. There's a lot of hair metal bands. It's purely a fun thing."
Hyatt got the idea for his Spark contribution during trips to Africa and Latin America. "These amazing, resourceful people turn these little motor bikes into stores, basically," Hyatt says. "It's something you don't really see in the states. It's everything. It could be a refrigerator repairman, but on these vintage motorbikes that have been cobbled together with thread and used vegetable oil. So, it was kind of that wacky resourcefulness of the developing world mixed with the tradition of punk, hip-hop and DIY culture of pedaling tapes out of your trunk. I mean, I love that. … It's supposed to just put a smile on people's faces."
When he's not cruising around the Circle, Hyatt can likely be found collecting field recordings for his various sound art projects. He's in the midst of releasing a five-album series of site-specific recordings under the name of Field Works. You may have caught wind of his work on the Indy Sound Map. His most recent LP featuring sounds collected at Pogue's Run will premiere at LUNA on Sunday, September 13.
Hyatt is very serious about his Field Works project, but his contribution to Spark is more laid back. "It's just one of those things that puts a smile on people's faces," he says. "I kind of bop my head, but I also try to be a good, corporate executive who just had to bust out for a few hours."
"People talk a lot about food deserts in our city," Hyatt says. "I just want to make sure there aren't any cassette deserts either."