By Rob Peoni, Spark writer in residence 
My routine of walking from my home in Fletcher Place to Monument Circle for Listen Hear's ambient, experimental, Mellow Monday set was interrupted due to weather this week. A late afternoon rain was showering downtown Indy. Despite the weather, the performance by local multi-instrumentalist Rob Funkhouser was scheduled to proceed – rain or shine. With walking out the window, I called an Uber rather than attempt to negotiate parking.
"Look at that mural!" my driver chuckled as we emerged from beneath the parking garage on Virginia Ave. She was pointing at the image of a man on a ladder, supporting an impossibly large scroll. Franklin, TN muralist Michael Cooper, designed the piece, entitled "Indy – Always On A Roll!" My driver admits she has never noticed the mural.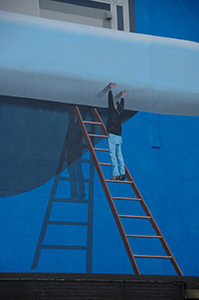 Rain falls steadily as we roll onto the circle from Market Street. Upon exiting my ride, I see Big Car's Spark crew arranging chairs beneath the marquee in front of Hilbert Circle Theatre. On a folding table in front of the chairs, Funkhouser is assembling his rig: a MINIBRUTE SE analog synthesizer, a MacBook Air, a composition notebook and a cluster of cords connecting the devices.
Droves of umbrella-headed business suits pass by abandoning their day's work at their desks. By the time the bells toll at Christ Church Cathedral signaling the six o'clock hour and the start of Funkhouser's performance, the rain is reduced to a drizzle and the large cabanas arranged to protect the crowd and Funkhouser's gear are deemed unnecessary, folded, and set aside. The sun peeks through the clouds, baking the soaked bricks of the circle.
Funkhouser kicks off with spacey, ambient notes that seem to sparkle and burst like globs of hydrogen in the cosmos. The music becomes more full, with Funkhouser adding swaths of sound by playing chords on the keys of his synthesizer. It grows darker and more ominous, with the occasional wave of calm. A pattern of distortion cuts through the atmosphere adding a backbeat to the ambience. A teenage couple looks on while silently sipping fluorescent sodas before ambling onward.
Big Car executive director Jim walker captures photos or video footage from a tall tripod across the street. He's standing just beneath a statue of Oliver P. Morton. The 14th governor of Indiana stands with his hand extended, waist high, palm held upward as if inviting the cacophony at his feet. Walker is wearing a Big Car mechanic's shirt, cargo shorts, and teal blue socks. He's smiling. He looks like an urban safari guide. Most days, that description isn't too far off.
A trio of skateboarding teens rolls by. On the other side of the marquee, a leather-clad guy who looks alarmingly like Julian from Trailer Park Boys revs up his Harley Davidson. Befuddled, quizzical smiles from passers-by walk on the sidewalk behind Funkhouser.
I can't help but chuckle at my surroundings, pinching myself at how lucky I am to witness this experimental performance on the doorstep of Indy's most hallowed musical institution, Indianapolis Symphony Orchestra. This isn't something that happens with regularity across the country. Experimental musicians are rarely offered this type of platform, and the unique nature of the performance isn't lost on the crowd.
John Flannelly, the curator for Listen Hear's contribution to Spark is seated in the front row. He's wearing a jean jacket, white paints, purple sunglasses, black dress shoes and is sporting a fresh haircut. For the previous two performances, Flannelly has been on top of the time, reminding performers: 30, 15, 5 minutes left. Today, he lets Funkhouser roll. He's right to do so, as Funkhouser closes the set promptly at 7 p.m. Flannelly is on stage himself on Monday Aug. 24 at 6 p.m. as this week's Listen Hear artist.
With Funkhouser's performance and rainfall in the rearview, I decide to walk home along the Cultural Trail to digest what I've just heard and seen. This fall, Funkhouser will return to school to study musical composition at Butler University. I can't help but wonder whether one day the symphony held inside the doors in front of which he just performed will be celebrating and rearranging his works.
Rob's pick for this week's Spark programming:
At 6:30 p.m on Wednesday Aug. 26, Indianapolis artist Kipp Normand will lead a themed walk that begins at Spark's welcome trailer parked in front South Bend Chocolate Company on Monument Circle. As an artist, Normand uses found and repurposed materials as the building blocks for his celebrated installations. For a primer, check out Jennifer Delgadillo's recent profile on Normand via Sky Blue Window. As one who specializes in found art, Normand's view of his surroundings likely differs from the rest of ours substantially. With that in mind, I'm anxious to hear his interpretation of "Indy Oddities." RSVP for the walk via Facebook.